Custom Printing Greaseproof Paper For Your Business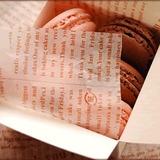 Custom printing greaseproof paper for your business is easy, cheap, high quality and fast with turn around times less than 3 weeks. This article will help you to understand the process and choose the best option for your printed greaseproof requirements. Custom printing greaseproof paper for your business is easy, cheap, high quality and fast with turn around times less than 3 weeks. This article will help you to understand the process and choose the best option for your printed greaseproof requirements.

Custom printing your greaseproof paper is one of the most inexpensive, yet effective methods of promoting your brand and taking your business to the next level to compete with the bigger players in the market. In this article we'll be looking at topics including artwork requirements, what is random printing, what is registered printing, sheet sizing and more. By the end of this article, you should have a good foundation on the topic to be able to make an informed decision when ordering your custom printed greaseproof paper.
Artwork Requirements
We need vector artwork to enable us to manufacture the printing plates for your greaseproof run. Vector artwork is produced in programs like Adobe Illustrator. This means that we're not able to transfer jpeg, tiff, bmp, pcx and similar files to the appropriate format for manufacturing your printing plate. There are exceptions of course, where you may have a high DPI single colour jpeg that can be traced in illustrator and converted to vector. Generally speaking, your artist will provide you with vector artwork in PDF, AI or similar formats for you to use.
Colours
You can use up to 2 separate colours in your artwork. Please select your colours from the Pantone Solid Uncoated colour book. We won't be able to print CMYK or RGB colours. If your artwork is in CMYK (for example), you'll need to ask your artist to convert it to PMS (Pantone) colours before we print.
Shades
Whilst 90% of all greaseproof is printed without shades, it can be done if necessary, but the exact shade can't be guaranteed. This is because shades of a specific colour are achieved by stippling the printing plate (cross hatching it) so that the stippled area picks up less ink and hence produces a lighter version of the ink colour. The downside to this is that stippling the plate will render the shaded areas as dots. Our resolution is 300DPI, so please try to avoid very light shades of a dark colour as the dots will be very noticiable on your final print.
Take a look at the greyscale newspaper article print a little further down the page for an excellent example of printing using shades. You'll be able to see that in the lighter areas, where the printing plate was stippled, that the print becomes pixelated.
Artwork Template
We'll provide you or your artist with an artwork template to apply your design to. Your artist will need to make sure that your artwork doesn't exceed the bounds of the template.
What is Random Printing
95% of our clients use random printing for their custom printed greaseproof paper. Random printing means that your artwork is repeated all over your greaseproof paper. Random printing is the most economical way of custom printing your greaseproof paper. Minimum orders are low, and you can essentially choose any final cut sheet size that you like (including multiple sizes). A good artist can obtain amazing results with random printed greaseproof. Following is an example of a random printed sheet: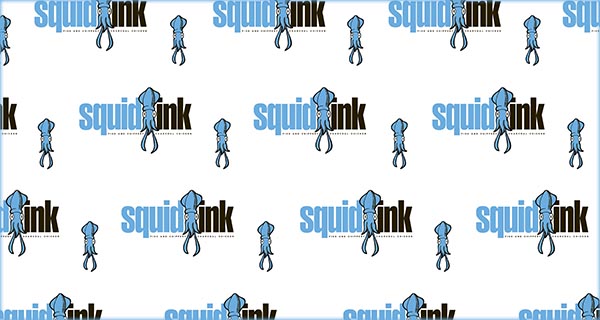 What is Registered Printing
Registered printing means that the same image will appear in the same area of each cut sheet. A little more effort goes into the set up for registered printing, so the minimum orders are higher than for random print. For the most part, only clients with the most exacting specifications will probably select registered printing for their greaseproof paper. There are size limitations for registered printing on greaseproof. Your full sheet size will be dictated by the size of the printing plate, so will be 560mm x 425mm. Half sheet size will be 280mm x 425mm. The main thing to bear in mind when making your decision is whether or not you actually need an image to appear in exaqctly the same position on each printed sheet rather than having the repetition that random printing offers at a lower cost with lower minimum orders. Following is an example of a registered printed sheet (commonly used for newspaper style prints for fish and chip shops):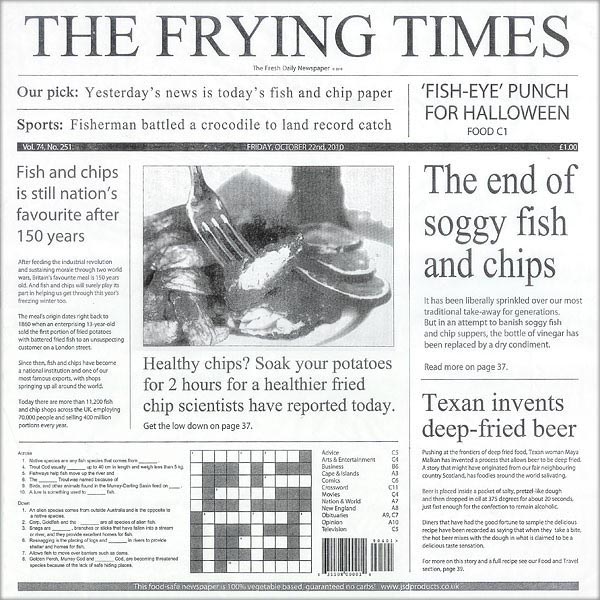 How Long Does It Take?
We manufacture locally in Sydney. It can take up to 3 weeks for us to send your finished greaseproof paper to you from the time that you sign your artwork proof.
Printing Plates
We manufacture the printing plates required to print your greaseproof for you. Please note that whilst you have paid for the manufacture of these plates, they are not transferable. The upside to having to pay for printing plates is that you only have to pay for them one time. All future reprints will be able to use the same plates, so the cost of printing plates will be deducted from all reprint invoices.
Hopefully the above has gone some way towards demystifying the process of custom printing greaseproof paper for your business. Of course, you can always
Contact Us
for further information.