Buying Plastic Shopping Bags in Australia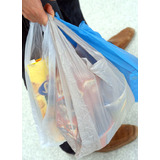 How to get the right bags for your local laws Different states have different laws governing the purchase and use of disposable shopping bags. This buying guide tell you which shopping bags your can purchase from us to satisfy your local laws.
Updated 23-10-2018
- Plastic bags have been scrutinised by all Australian states over the years, with each state taking their own local stance on the sale, purchase and use of disposable plastic shopping bags.
DEFINITIONS
A couple of definitions taken directly from the
Plastic Shopping Bags (Waste Avoidance) Act 2008
are a good place to start this guide:
Biodegradable Bag means a carry bag comprised of material of a type that has been assessed and tested in accordance with the relevant standard and can, in accordance with the relevant standard, be designated as compostable
Plastic Shopping Bag means

a carry bag,

the body of which comprises (in whole or in part) polyethylene with a thickness of less than 35 microns and

that includes handles
PLASTIC BAG REGULATION IN THE STATES AND TERRITORIES
Lightweight plastic bags have now been banned in all states of Australia excluding NSW and Victoria. Plastic bags have also been banned in a number of towns and local government areas across the country, including Birregurra, Cannon's Creek, Metung and Murtoa in Victoria. On 30 January 2013, the City of Fremantle became the first Local Government to ban plastic bags when it adopted the
City of Fremantle Plastic Bag Reduction Local Law 2012
. Management of plastic bags in the other States is generally implemented via a combination of the Australian Packaging Covenant and other policy options
Victoria
After the 2008 trial of charging for light weight shopping bags in Victoria, the Victorian Government has
not
made regulations under the Environment Protection Act 1970 to mandate a charge on plastic bags. However, the Victorian Government plans to commence banning light weight shopping bags by the end of 2018 at this point.
New South Wales
In NSW lightweight plastic bags are managed by a combination of COAG and State regulation and policy and have not yet been banned.
CONCLUSION
If you're purchasing light weight plastic shopping bags for use in NSW or VIC you can select from our whole range of plastic shopping bags.
If you're purchasing plastic shopping bags for use in any other state (including ACT) or you're unsure if the laws have changed in your state since the writing of this article, please select your bags from our
Carry Bags - Ban Approved
section.
*Updated to current from Original Source NSW Government e-brief 03/2013 Plastic Bags - An Update by Daniel Montoya