Short Run Printing On PET Clear Cups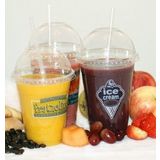 The Secret To Custom Printing Plastic Cups in Small Quantities The Secret To Custom Printing Plastic Cups in Small Quantities
Our standard offering of custom printed clear PET cups starts at 30,000 cups per size of cup per design. Whilst this minimum order quantity offers an excellent price point, it can often simply be too many PET cups to custom print for a small event. Some agencies elect to custom print paper coffee cups with us in short runs as a cost effective and fast alternative. We have completed short runs of full colour print double walled branded paper cups in lieu of plastic for major brands including Bulleit, Jack Daniel's, Jim Beam, XXXX, Southern Comfort, El Jimador and much more.

The Alternative To Bulk Ordering Printed PET Cups For Your Client
Another alternative for custom printing small runs of clear PET cups for your client's event also exists. Your PET cups can be pad printed on one side with exceptional results. There are various pad printers in the Sydney area worth chatting to, including Hammer Print and Alex Pad Printing Services. Consider pad printing when your client has given you a difficult specification for a small run of printed plastic cups.

How Do You Arrange It?
Have a talk to the pad printer of your choice and discuss your requirements with them. They'll need to know:
The cup size and material that your client needs printed (we suggest PET cups for optimal results in plastic)
The quantity of that cup that you need to print
How many colours your client has asked for
Your project timeline
If you're happy to proceed, order the clear PET cups that you require from us here. During checkout, make sure that you enter the delivery address for your pad printer and we'll send your cups directly to them for printing. We'll also contact them to make sure that they're aware of your pending inbound delivery.

Are We Affiliated With Any Pad Printers?
WF Plastic isn't affiliated with any pad printer, and we don't receive any financial or other gain from them by referring business to them. We're happy to refer you to Hammer Print or Alex Pad Print Services so that you can further discuss your requirements with them.